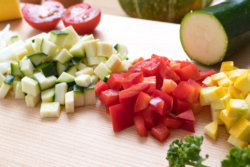 Zucchini is one of those wonderful vegetables that is easy to grow, and grow plenty of. It has a fairly bland flavor, which makes it the perfect vegetable to sneak into recipes that range from bread and muffins to soups, stews, and scrambles. Nutritionally, zucchini is a good source of protein, Vitamin A, Thiamin, Niacin, Phosphorus and Copper, and a very good source of Dietary Fiber, Vitamin C, Vitamin K, Riboflavin, Vitamin B6, Folate, Magnesium, Potassium and Manganese.
If it's harvest time where you are and you've got these little green wonders coming out of your ears, here's what to do with all that zucchini:
Make chips – just slice thinly, freeze dry, then toss with seasoned salt or sea salt.
Preserved chunks for soups, stews, ragu, and ratatouille – place a single layer on the freeze drying trays and preserve in airtight containers until you're ready to use. You don't need to rehydrate before adding to moisture rich recipes such as these – they'll absorb everything they need from the broth.
Preserve shreds for pancakes, fritters, muffins, and quick breads. The magical thing about using freeze dried zucchini in quick bread, fritter and muffin recipes is that most require that you dry out the squash and remove as much moisture as possible before adding it to the batter. Freeze drying does that for you automatically, which makes the end result much more flavorful and moist.
Preserve chunks for dog treats – most dogs love zucchini, and munching on fibrous vegetables can help clean their teeth. Cut your chunks to the appropriate size for your dog, remembering they'll shrink just a little when the moisture leaves. Keep them in an airtight cookie jar and dispense liberally.
And it's not just zucchini that can be freeze dried – onions, melons, peppers, tomatoes, just to name a few. Nothing tastes better than fresh garden produce…with a home freeze dryer, now you can keep that taste year-round!