Recently we've been sharing some educational (and tempting) video clips from Stacy Lyn Harris, cookbook author, gardener, mother of seven, sustainability expert, and guest chef. This summer and fall, Stacy Lyn is doing cooking and garden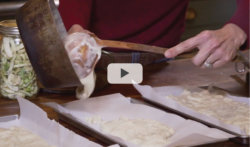 ing segments on RFDTV's Rural Heritage show on cable TV.
In this clip from the episode Homestead Ironworks Part 2, Stacy Lyn discusses one of her favorite food groups: Seasonal soups. Stacy Lyn says she loves to make seasonal soups to put up for emergencies and for quick, healthy meals. In this episode, Stacy shows how to freeze dry soup that will stay fresh in the pantry for up to 25 years.
Below is a recipe for Stacy's Granny's Garden Vegetable Soup. "My grandmother was one of the best southern cooks I have ever known and my dad is one of the best gardeners I know. The pair could make a mean soup! I could live on this soup forever!"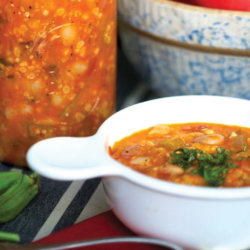 GRANNY'S GARDEN VEGETABLE SOUP
Hint:  Adding freshly squeezed lemon always brightens a dish!
Ingredients:
3 tablespoons olive oil
2 celery stalks, chopped
1 large onion, chopped
1 clove garlic, crushed
2 pounds okra, sliced into ¼ inch thick rounds
8-10 tomatoes, peeled and crushed
¾ cup butter beans
4 ears of corn (1-cup),cut off the cob
1-tablespoon basil, chopped
1-tablespoon thyme, chopped
3 dashes of hot sauce
1-tablespoon salt
½ teaspoon pepper
1 lemon
​•​In a large stockpot, heat olive oil over medium heat.  Add celery, onions, and garlic and heat for about 1 minute, stirring constantly.
•Add okra, tomatoes, beans, corn, basil, thyme, hot sauce, salt, and pepper to the pot. Squeeze the lemon over soup. Add enough water to just cover the soup.
•​Bring mixture to a boil, and then reduce to simmer.  Cover and let simmer for 1 hour.
Get more of Stacy's delicious recipes from her latest book, Stacy Lyn's Harvest Cookbook at http://amzn.to/2pUspwo. Or, visit her website at https://gameandgarden.com.