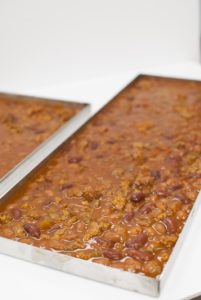 Chili is one of those meals we never get tired of, and we never get tired of experimenting with. In the winter we make thick, meaty, spicy chilis that are warming from the inside out. In spring, we lighten up our recipes – replacing ground beef, shredded turkey or cubed steak with vegetables such as bell peppers, fresh corn, bell peppers, and yellow squash or zucchini. (Of course, the debate about adding pasta or rice to your chili is a sacred decision and we'll leave that up to you. Whatever you decide, it will freeze dry just fine.)
We've never met anyone who doesn't like chili. If you've cooked for a crowd you may find you have more chili than you know what to do with. The answer, of course, is to freeze dry it and add it to your emergency food supply, or, save it for a busy weeknight down the road.
To freeze dry chili, just pour a layer onto the freeze drying trays and process. Freeze drying only removes the water content from food, leaving all of the flavor and nutrients behind. You can store your freeze dried chili for next week, next year, or up to 25 years as long as its in an airtight container.
To rehydrate chili, just add hot water and stir until it reaches its original consistency. You can add all of your favorite toppings such as shredded cheese, oyster crackers, green onions, corn bread or corn chips right before serving. If you love chili toppings as much as we do, be sure to freeze dry a batch of your favorites to save along with your soup.
Chili is such a crowd-pleasing comfort food that it also makes an ideal portable entree for camping trips, take-along-airport meals, RV dinners, or any road trip or activity where a cup of hot soup would be welcome.