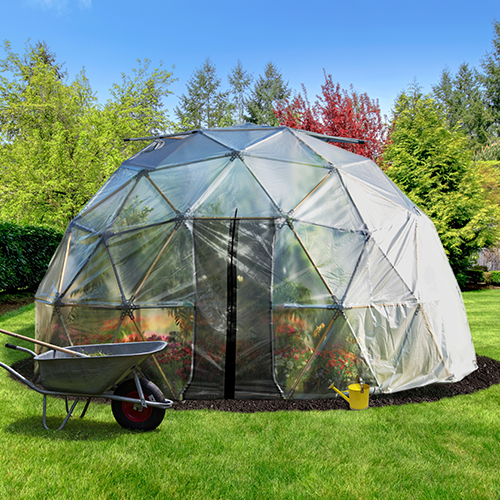 It's been an early spring for many parts of the country and gardeners everywhere are getting their plots ready. We like to think that home freeze dryers and gardens go together like peas and carrots; when you have a home freeze dryer you can easily preserve your entire harvest, and even plant more food and more varieties of fruits and vegetables.
Did you know we also make geodesic greenhouses that can help you garden year round and triple your harvest? If you are a gardener, check out our Next Level Gardening page to see how you can have even more fun this year.
Whether you're gardening in a small backyard plot, on acres of land, or in a geodesic greenhouse, here are five of our favorite vegetables to plant:
Heirloom Tomatoes
You've seen this variety of tomato at the grocery store and farmers market. They are often misshapen, colorful and not so pretty. But they are delicious. Heirloom tomatoes are open-pollinated non-hybrid tomatoes that are generally more disease resistant than commercial hybrids. The best way to eat heirloom tomatoes is sliced right out of the garden.
Yellow Pear Tomatoes
Yellow pear tomatoes are fun to cultivate because they grow quickly and produce so many fruits. These tiny tomatoes are sweet and mild so they're perfect for summer salads. Our favorite way to eat yellow pears is straight out of a bowl when the afternoon munchies hit. For a pretty side dish, combine them with fresh basil leaves, mozzarella balls and a drizzle of olive oil.
Speaking of Basil….Basil
In the summer fresh basil is the most versatile herb in our garden. Add it to salads, sandwiches, caprese side dishes, or just make gallons of pesto to get you through the winter. The best part? You can freeze-dry all the basil and pesto you want.
Kale
Honestly, we can't get enough kale. Kale is a cool weather crop, so plant plenty of it now. This dark, leafy green is full of fiber, antioxidants, iron and vitamins that are otherwise hard to get. Juice it, steam it,  freeze dry it and make kale chips, add it to soups and stews or just rinse it for salad – trust us, you'll want to plant plenty.
Blueberries
There's something nostalgic about picking berries, especially if you've grown them yourself. We love blueberries in the garden because there are few things more fun to eat than a freeze-dried blueberry. They're not only addicting, blueberries have powerful antioxidants.
What are you planting in your garden? Share your photos with our Facebook community!