Easter is just around the corner and many of us have baskets to fill, eggs to hide, and celebrations to plan. Whether you're hiding just a few eggs for a little one or planning a big dinner for dozens, you can put your freeze dryer to work. Here are two fun ways to use the freeze dryer for Easter festivities:
Hoppin' Down the Bunny Trail Mix
The basic recipe for any trail mix is dried fruit, nuts, and something fun such as chocolate candies or popcorn. For this recipe, our something fun is Annie's Bunny Grahams. They're organic, they're delicious, they're bite-sized, and they're shaped like bunnies. Use your freeze dryer to process mini marshmallows, plus sweet cherries, strawberries or raspberries – they go particularly well with this special Easter mix.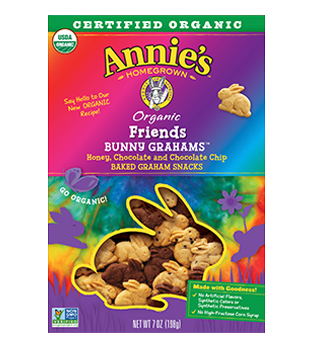 1 cup dried cherries, strawberries or raspberries
1 cup raw, unsalted pumpkin or sunflower seeds
1 cup raw, unsalted walnuts or almonds
1 cup freeze dried mini marshmallows
1 cup Annie's Bunny Grahams in any flavor
Mix together and store in an airtight container. A nice way to give this mix as gifts is to package in cake frosting decorating bags tied with ribbon. The clear bag and the cone shape show off the colors – and the cute rabbits.
Peepsicles
Marshmallow Peeps are a sure sign of Spring, and Easter is the only time these nostalgic little guys come out. If you're addicted to freeze-dried marshmallows (and who isn't?), you're going to love freeze dried Peeps. They're crunchy and delicious, like Lucky Charms marshmallows, only bigger and coated with a light sugar coating. Peeps get a little larger in your freeze dryer, so make sure to leave a little space between each peep when you place them on yo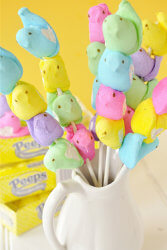 ur trays.
The trick to giving these as gifts is in the presentation. Peeps come in wide range of colors, so freeze dry a multi-hued batch of everybody's edible chicks. Then, make a freeze-dried "Peepsicle" by carefully threading different colored Peeps on pointed bamboo skewers. Place an arrangement of Peepsicles in a pot as a centerpiece, or wrap individually in sucker wrappers (found at your local gourmet or craft store).
Are you freeze drying gifts for Easter? Share your photos on our Facebook page!