If you have a home freeze dryer, you can achieve the same goals for far less. If your resolution is to lose weight this year, here's how to put your freeze dryer to work: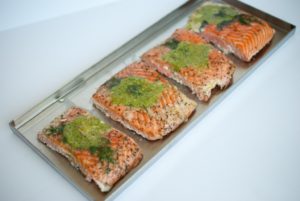 DIY Meal Kits
Meal kit services are all the rage – it seems like a new one pops up every day. Part of the popularity is that pre-portioned meals can help you stay on track with weight loss goals. However, meal kits range from $8 to $13 per serving – making them an expensive convenience. Kits come with fresh ingredients pre-portioned for a meal that serves two to four people, and they take between 30 and 45 minutes to make. You'll save time and money by creating your own version of a meal kit. Prep the ingredients for your favorite meals, substituting high calorie ingredients and saturated fats with lower calories substitutions and healthy fats, and freeze dry. When you're ready to assemble your famous turkey meatballs or vegetable lasagna, it will only take minutes.
Make a Month of Meals
Most people who maintain a healthy weight say they eat the same meals on a rotation. Find four or five healthy dishes that you enjoy, make a month's worth at one time, then freeze dry individual (or family sized) portions. Like hot breakfasts and lunches? Freeze dry crustless quiche, chicken breasts to add to salads, glazed salmon, riced or mashed cauliflower, and high fiber soups. Make your meals on the last day of the month and automate healthy eating for the next four weeks.
You Can Take it With You
Traveling can cause set backs if you're on a weight loss journey. Restaurants often make meals delicious by adding more fat, sugar, and salt than you would use in dishes at home. Whether you're traveling for business or fun, freeze dry healthy snacks and meals for the road. Freeze drying removes all of the water from food so freeze dried meals and snacks are lightweight enough to stash in a carry on.
You know what they say – if you fail to plan you plan to fail. Use your home freeze dryer to plan delicious, healthy meals and snacks and you'll be able to stay on track no matter what life throws at you.