Looking back on 2015, we couldn't have anticipated the wild weather patterns we saw across the U.S. While those of us in the West were battling drought, our friends in the South were coping with epic flooding. And that was just one of the curve balls! While we can't control what's headed toward us in 2016, we can control how we handle life's emergencies. We do know there will continue to be shortages of certain food due to drought, flooding and livestock disease, and the economy will be in flux as interest rates rise and political interests shift. One of the best ways to keep everything smooth and steady in the coming year is to make sure you've got basic needs covered, and an emergency food storage plan is the best way to do that.
You can freeze-dry almost any food, including meats, dairy, fruits and vegetables. One of the best ways to start an emergency food storage is to freeze-dry nutritious entrees that can easily be reconstituted for quick meals. Consider freeze drying family-size portions of casseroles, soups and breakfast foods like scrambled eggs. These dishes can be packed with whatever vegetables and proteins you have on hand, so in an emergency you know your family will be getting well-rounded meals.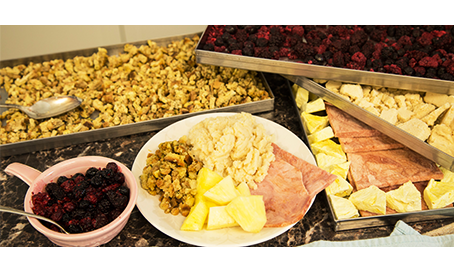 Once you've got a stash of entrees ready, branch out to freeze-drying ingredients or individual foods like vegetables, fruits, turkey breasts or hams. Stored properly, freeze-dried food can last up to 25 years. Because all of the water is removed, it doesn't take up nearly the shelf space of cans, and it will last so much longer than canned, dehydrated and frozen food.
Investing in an emergency food storage plan now can help you and your family weather any storm, whether financial, political or an act of Mother Nature. If you're wondering whether or not your families favorite foods will freeze dry, check out our Will it Freeze Dry? page to find out, or check out our infographic below. Chances are you'll come away inspired!
Happy New Year from our Harvest Right family to yours!