We are sharing some wonderful new video clips from Stacy Lyn Harris, cookbook author, gardener, mother of seven, sustainability expert, and guest chef. This summer and fall, Stacy Lyn is doing cooking and gardening segments on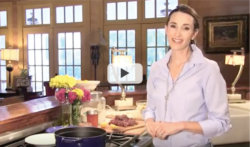 RFDTV's Rural Heritage show on cable TV.
In this episode, Horsepowered High Tech, Stacy Lyn explains why her favorite kitchen appliance is her Harvest Right freeze dryer. As an avid gardener, Stacy Lyn loves her freeze dryer because it helps her preserve what she grows. However, Stacy also loves her freeze dryer because it helps her preserve food when the harvest is ready all at once. In this episode, Stacy explains how her Harvest Right freeze dryer comes in handy during her annual family beach vacation.
Below is a recipe for Stacy's Garlicky Shrimp Scampi. To get more of Stacy's delicious recipes from her latest book, Stacy Lyn's Harvest Cookbook, go to http://amzn.to/2pUspwo. Or, visit her website at https://gameandgarden.com.

Garlicky Shrimp Scampi
2 pounds large shrimp, shelled and heads on
Kosher salt
1 pound pasta (spaghetti or linguine)
2 tablespoons extra-virgin olive oil, plus more for drizzling
8 tablespoons unsalted butter (1 stick)
10 garlic cloves, half minced and half thinly sliced
1/2 teaspoon crushed red pepper flakes, plus more for garnish
1 tablespoon freshly grated lemon zest
1/3 cup white wine
juice of 1 medium lemon
1/4 cup chopped fresh parsley leaves
Bring a large pot of water to a boil over high heat. Add the shrimp and a tablespoon of salt to the water. Allow to cook for about 2 minutes or until the shrimp are lightly pink. Remove shrimp with a spider to a bowl. Strain the water the shrimp were boiled and add more water if needed to cook the pasta.
Bring the water to a boil and add the pasta and another pinch of salt and cook until al dente. Drain the pasta, reserving about a cup of the pasta water.
Meanwhile, peel and devein the shrimp. Heat a large sauce pan over medium heat. Add the oil and 3 tablespoons of butter to the pan until the butter is melted. Add the minced and sliced garlic and red pepper flakes for about 1 to 2 minutes. Be careful not to burn the garlic.
Add lemon zest and white wine to the pan and reduce by one-third. Add 1 tablespoon of Kosher salt, lemon juice, pasta, shrimp, and remaining pasta water and reduce by one-third. Add the remaining 5 tablespoons of butter one at the time to the sauce making it thick and luscious. Toss to combine.
Remove from the heat and sprinkle with the parsley. Plate the pasta, pour the shrimp and sauce over the pasta, and serve with a drizzle of olive oil and extra red pepper flakes.