Have you been enjoying our recent video clips by Stacy Lyn Harris? If you're just joining the fun, cookbook author, gardener, mother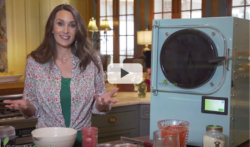 of seven, sustainability expert, and guest chef Stacy Lyn Harris has been sharing her cooking and gardening segments on RFDTV's Rural Heritage show on cable TV.
Stacy Lyn is a big advocate of home freeze drying, and she has some delicious recipes to share. In this episode, Forging a Firepit Trip-Pod, Stacy Lyn explains that while she loves her freeze dryer because it helps her family be ready for emergencies, but she also likes to use it for fun culinary projects. This clip will have you running for the kitchen as Stacy Lyn shows you how to use your freeze dryer to make incredible raspberry icing, raspberry lemonade, and a delicious, tangy raspberry drink.
Get more of Stacy's delicious recipes from her latest book, Stacy Lyn's Harvest Cookbook at http://amzn.to/2pUspwo. Or, visit her website at https://gameandgarden.com.