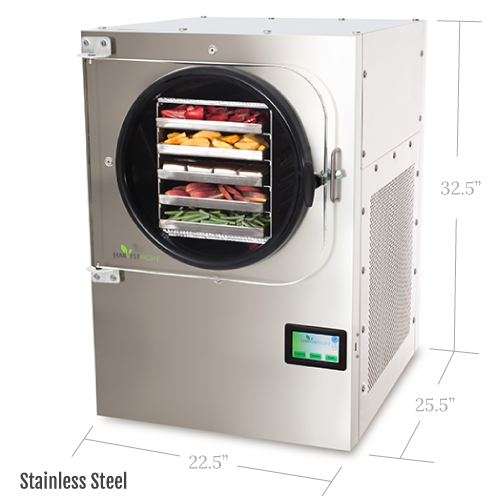 For many families, Harvest Right's standard or small freeze dryer is just the right size for their needs. However, our large freeze dryer is a perfect fit for these common situations:
Preserving food for big families
Preserving the harvest from expansive gardens
Implementing a comprehensive long-term food security plan
Sharing food with others in need
Sharing freeze drying capabilities with other families
Harvest Right's large freeze dryer is 32.5″ tall x 22.5″ wide x 25.5″ deep and can preserve 12-16 lbs.of fresh food per batch. That means you can easily freeze dry 2,500 pounds of fresh food per year.
Preserving Food for Big Families
"There just aren't enough hours in the day." If you have a large family, you probably find yourself saying this with regularity. Having a large home freeze dryer can take some of the pressure off of cooking for a crowd. A large freeze dryer allows you to double or triple recipes, cook once, and preserve the rest for a few much needed no-cook meals down the road. A large freeze dryer also makes creating large batches of healthy snacks a cinch. You can also preserve leftovers from weeknight and holiday meals in order to reduce food waste and stretch your kitchen time and budget further.
When it comes to cooking for a large family, careful budgeting at the grocery store is usually an important part of the equation. Having a large freeze dryer allows you to take advantage of bulk discounts and sales without worrying about food spoilage.
Preserving the Harvest from Expansive Gardens
Serious gardeners already have their seed catalogs out and are making plans to expand and improve this year's crop. If you love to garden, and depend on an expansive garden or greenhouse for fresh fruits and vegetables, having a large home freeze dryer means you can plant as much as you want without worrying about food waste. More homegrown vegetables and fruits means better health and lower grocery bills. If you garden, a home freeze dryer can pay for itself in less than one year. Plus, if you have fruit trees, you'll be singing the praises of your freeze dryer when you are preserving apples, peaches, or even avocados to eat whenever you'd like.
Implementing a Long-term Food Security Plan
Freeze dried food retains taste and nutritional value, and can last up to 25 years. There's no better method for building a long-term food security plan than to freeze dry your own healthy food. Having a large freeze dryer allows you to easily preserve 2,500 pounds of food per year. At that rate, you can quickly build a long-term food storage strategy by preserving leftovers, taking advantage of sales at the grocery store, preserving meat from a successful hunting season, and growing your own fruits and vegetables.
Sharing Food with Others in Need
Whether you endeavor to share food with those in need on a regular basis or you just want the ability to share food in an emergency, having a large home freeze dryer makes it easy to preserve extras for others. Because you can freeze dry entire meals, sharing healthy, nutritional food with those in need is simple. Re-hydrating a meal only requires water, making it simple for volunteers or individuals to make a warm, healthy meal.
A large home freeze dryer also allows you to create healthy meals for senior citizens or others in you community who need help getting access to nutritious food on a regular basis. Freeze dried meals and snacks are easy to re-hydrate, and can allow senior citizens and those with disabilities to remain independent.
In an emergency, most people instinctively move to help others. A large freeze dryer allows you to preserve enough for your families needs, plus extra so you can help others if the need arises.
Sharing Freeze Drying Capabilities with Other Families
We love hearing about neighbors, neighborhoods, churches, or even large families sharing a large freeze dryer in a central location. A working freeze dryer is a happy freeze dryer, so spliting the cost of the appliance and sharing freeze drying time among a group is a wonderful way for like-minded individuals to save money, reduce food waste, and create a healthy food security net.
Are you using a large freeze dryer? Share your story and inspire others on our Facebook page!