Cookbook author, gardener, mother of seven, sustainability expert, and guest chef Stacy Lyn Harris is a big advocate for home freeze drying because it helps her family stay prepared for emergencies and keeps her pantry stocked with healthy meals. This summer and fall, Stacy Lyn's sustainability and gardening tips are highlighted in coo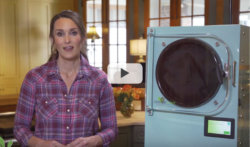 king and gardening segments on RFDTV's Rural Heritage show on cable TV.
In this video clip from the episode Homestead Ironworks Part 1, Stacy Lyn explains how she uses her Harvest Right freeze dryer to stay prepared, but she also uses it to ensure her busy kids have a supply of healthy meals even on hectic days. Watch as Stacy Lyn shows you how she uses her freeze dryer to preserve turkey, venison, and other meats for quick, nutritious weekday meals.
Below is a recipe for Stacy's Stuffed Turkey Breast. This dish not only has a beautiful presentation, but also has the flavor punch that Stacy's family craves. The aromas of the buttery turkey and herbs will fill your house with warmth. The flavors of the stuffing and the tenderness of the turkey make for a succulent meal for any occasion. Serve this dish on Christmas night, or, any day of the week! 
Get more of Stacy's delicious recipes from her latest book, Stacy Lyn's Harvest Cookbook at http://amzn.to/2pUspwo. Or, visit her website at https://gameandgarden.com.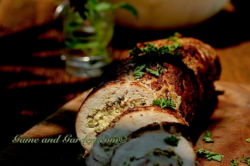 Stuffed Turkey Breast
¼ cup mushrooms, sautéed and chopped
½ cup parmesan cheese, grated
½ cup artichoke hearts
¼ cup parsley, chopped
2 garlic cloves, minced
1 teaspoon kosher salt
½ teaspoon freshly ground pepper
1 1pound turkey breast
Directions:
1. 
Preheat oven to 350 degrees.
2. 
Place mushrooms, cheese, artichokes, parsley, garlic, salt, and pepper in a food processor and pulse until blended.
3. 
Butterfly turkey breast
.
 Pound turkey breast to ¼ inch thick. You should end up with about a 10×6 rectangle.
4. 
Place artichoke mixture on center of pounded turkey leaving an inch border around the edges. With long side facing you, roll away from you into 
medium
 tight cylinder.  Truss 
turkey breast
.
5. 
Coat turkey in olive oil. Generously salt and pepper turkey. Place turkey on 
smoking hot 
skillet 
and 
brown on all sides. 
Place turkey in oven and bake for about 30 minutes or until turkey registers 140 degrees.
6. 
Transfer turkey to cutting board and allow 
to rest
 for 5- 10 minutes. Remove twine and slice with ½ inch slices and serve.