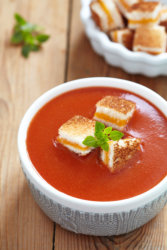 Grilled cheese croutons fall into the "why didn't I think of that before?!" category. If you haven't tried this delicious new trend, you're in for a real treat. Grilled cheese croutons in soup add a creamy, savory layer of flavor and texture that boosts winter soup indulgence into the stratosphere. Grilled cheese croutons can be added to tomato soup, vegetable soup, and even chicken soup. Here's how to make them:
1. Lightly butter bread and grill your sandwiches in a skillet until the cheese is melted.
2. Allow sandwiches to cool on a rack until cheese is solid.
3. Cut crusts off the sandwiches, then cut into nine squares.
4. Place squares in one layer on freeze dryer trays and process.
5. Keep croutons in an air-tight container until ready to serve.
6. To serve, place freeze-dried croutons directly into hot soup.
The Bread
Stale bread makes the best grilled cheese because it soaks up the cheese. Sourdough is an excellent choice for bread, as is any dense artisan bread. Brioche is a sweet bread that pairs well with milder flavored cheese such as Brie. Since stale bread is best, look for day-old sales on small batch bread at your grocery store or local bakery.
The Cheese
For even more flavor impact, don't limit your cheese to just cheddar. For best results, slice the soft types of cheese and shred the harder varieties (no processed cheese). Here are some of our favorite combinations:
Blue cheese / feta

Blue cheese / pepper jack

Flavored or herbed goat cheese

Muenster and fontina

Gouda and medium cheddar

Sharp cheddar and Swiss

Gruyère and provolone

Ricotta and raclette
These combinations make crunchy, irresistible snacks on their own, too. Since cheese packs a high protein punch, there's nothing wrong with having a handful of freeze-dried grilled cheese croutons for lunch on the go. Otherwise, open a nostalgic can of tomato soup or make your own gourmet version, toss in a handful of freeze-dried grilled cheese croutons, and enjoy the ultimate in winter comfort food.