Joy! Rhubarb is in season. This week I bought a bunch in the grocery store just in time for a Memorial Day pie. I had to explain to the cashier what it was, and she still kept calling it "Roobark". This exchange made me worry that my favorite vegetable was being overlooked by the next generation. Do people even eat rhubarb anymore?
I had barely finished eating my pie when we got an email from the owner of a Harvest Right freeze dryer. I was so pleased to know there were other rhubarb devotees out there. (Thanks Debra M. from Rexburg, Idaho!)
Debra says her neighborhood has an email group and someone sent a note offering free rhubarb. Nobody claimed the rhubarb so Debra picked up a large sack and toted it home to meet the freeze dryer. On more than one occasion I have picked up construction size garbage bags full from my own neighbors!
Debra says that one freeze dryer batch of rhubarb makes about 7 quarts and she vacuum packed it into 2-quart jars. The first recipe she tried was rhubarb bread. Recipe below: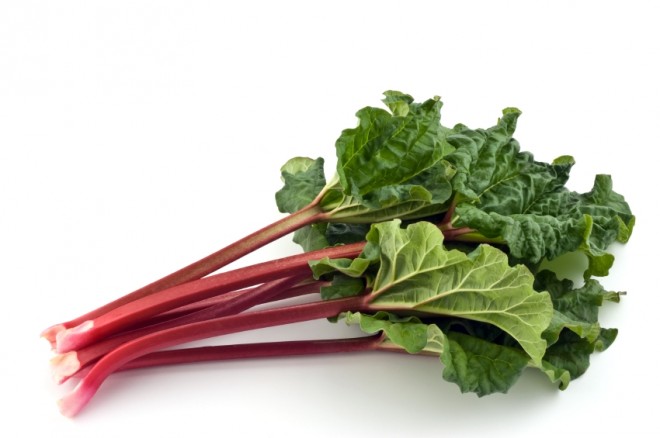 Rhubarb Bread
Crunchy top with a sweet and nutty inside.
Topping   
Mix together:
1/3 cup sugar
1 tablespoon soft butter
 Bread
Mix together:
1 ½ cup brown sugar
2/3 cup oil
1 egg
1 cup buttermilk
1 teaspoon vanilla
Mix together:
2 ½  cups flour
1 teaspoon salt
1 teaspoon soda
 To the dry ingredients fold in 2 cups of freeze dried rhubarb that have been rehydrated and drained. Fold in 1 ½ cups nuts.
Combine wet and dry ingredients and stir until incorporated together.
Pour into 3 small loaf pans of two medium size loaf pans that have been greased and floured.
Crumble the topping on the top of each loaf
Bake at 350 degrees for 40 to 45 minutes.
NOTE: To rehydrate the rhubarb, cover the dry rhubarb with water and let it absorb the water for about 5 minutes. I placed a regular size canning lid in a wide mouth mason jar on top of the water and rhubarb to submerge the floating pieces of rhubarb to help with the rehydrating process.  Drain well.
If you've got a good recipe for rhubarb – share it on our Facebook page so your fellow sour vegetable lovers can enjoy it too!