Stephen and Debra M. from BYU Idaho in Rexburg, Idaho emailed us with a great idea that can help other Harvest Right Freeze Dryer owners have a little extra fun with their next freeze drying project.
The idea has two simple parts:
Leverage the power of the freeze dryer to reduce your grocery bill by buying and freeze drying foods in bulk while they are in season.
Give your next freeze drying project a fun, seasonally-inspired theme.
A Freeze-Dried Luau…Why Not?
These innovative freeze dryer owners chose a "Hawaiian Days" theme for their 2015 spring freeze drying project.
Not only did their Hawaiian theme add some creative flavor to the task of freeze drying, but it also put them on the right path to focus on freeze drying in-season spring foods while the prices are low.
As they put it in their email to us,
"This is a great time of year to get some low prices on mandarin oranges, strawberries, pineapple, mango and pork tenderloin."
Early in the year, mandarin oranges are on sale at a great price. Strawberries are harvested in California in February and March, followed by pineapple, mangos, asparagus and pork loins — all of the fixings for a great Luau.
Here are some pics they sent of their Luau goodies all diced and ready to go into the freeze dryer: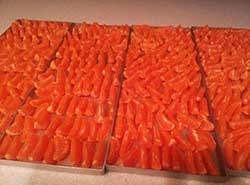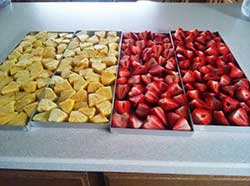 Mandarin Oranges                                                         Pineapple & Strawberries
Rosemary-Orange Grilled Pork Tenderloin Recipe
For the pork tenderloin, the Idaho couple chose one of Pamela Anderson's recipes for Rosemary-Orange Grilled Pork. We thought we'd share the recipe here and the process that Stephen and Debra used to prepare it for the freeze dryer.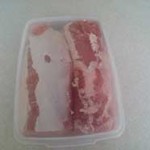 1- Brine the tenderloins.
Mix ½ cup kosher salt, ½ cup sugar and about 2 quarts cold water in a container that is large enough to hold two, four pound pork loins. Remove excess fat. Stir mixture until dissolved and add pork. Submerge in brine for about 45 minutes. Remove the pork from brine, rinse thoroughly, and pat dry.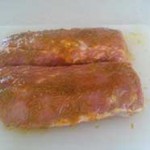 2- While pork is soaking, put together glaze.
In a small saucepan, bring 1 cup frozen orange concentrate, 4 teaspoons brown sugar and 6 tablespoons of rosemary to a simmer. Simmer until the mixture thickens.
Wear rubber gloves, and rub the brined tenderloins all over with glaze and then season with pepper to taste.
Heat a gas grill, turning all the burners to high until the grill is fully heated, 10 – 15 minutes. Put the pork on the hot grill. Close the lid and grill for 12 minutes. Turn porks over and switch places on the grill, close lid and grill another 10 minutes. Turn off heat (keep the lid closed) and continue to cook the pork for another 8 minutes. At this point insert an instant-read thermometer into the middle of the thickest end of the pork. The temperature should read 145 degrees to 150 degrees. If not, close the lid and let the pork continue to roast in the residual grill heat. Remove pork from the grill and let rest for 5 minutes before carving.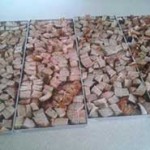 4- Dice the grilled pork for freeze dryer and freeze.
As you probably know, the Harvest Right freeze dryer does everything from there. You can see the finished, freeze-dried results of Stephen and Debra's project in the picture with the mason jars at the top of this page.

————————————————————————————————————————-
Now these freeze dryer owners have a ready-to-eat Hawaiian Luau that they can pull from storage any time of year. Or, if they choose, they can pull out just the parts they want to nibble on or need for other recipes. Either way, they definitely saved themselves some money by buying and freeze drying in bulk while the prices were low.
What ideas do you have for a themed freeze drying project? We have a few, but we thought we'd let our readers have a shot first. Comment here on this post to share your idea.