Organizing an emergency pantry, whether it's a shelf or a whole closet, can help you see what stores you have and what you need. Here are some inexpensive ideas for giving your pantry an organization makeover:
Commercial Kitchen Shelving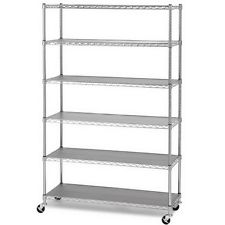 Wire racks from your local restaurant supply store are a fast, fairly inexpensive storage solution. If you live in a dry environment, you don't need to invest in wire shelves with an epoxy coating. That coating is intended to keep shelves from rusting in humid environments like walk-in coolers. However, if you live near a coast, an epoxy coating will keep your shelves from rusting in corrosive environments. Basic shelving units are easy to assemble and cost around $35 each.
From the Plumbing Aisle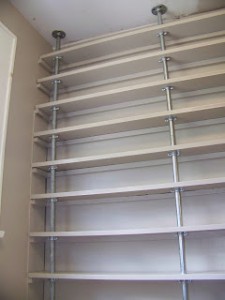 If you're looking for a fun DIY project, shelves made from MDF and galvanized pipe are inexpensive, modular and incredibly durable. These shelves cost the homeowners about $180 and are made to fit in a tight space. Standard shelves are usually about 15″ wide, which may be much wider than you actually need to store food. Consider using 7″ or 3″ shelving and running shelves all the way to the ceiling.
Ikea: Aisle 21, Bin 6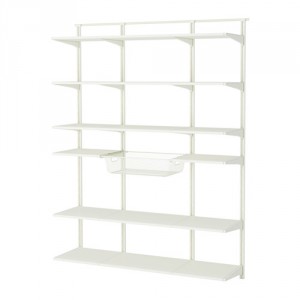 Ikea has so many fantastic pantry-organization possibilities it's hard to know where to start. Their Algot system is inexpensive, lightweight and modular. There are two sizes of mesh baskets and the smaller one is perfect for storing slippery mylar pouches. Note they also have two sizes for shelves: 15″ and 7″. Go for the 7″ with long suspension rails so you can run shelves from floor to ceiling.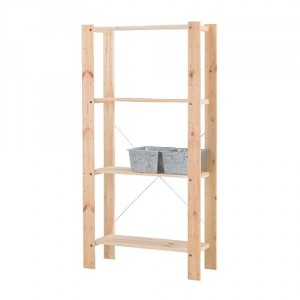 Of course, you can also find inexpensive wooden shelving at Ikea. Gorm racks are standard in Swedish kitchens and they're very pretty when loaded up with goodies.
Rubbermaid FastTrack Pantry Kit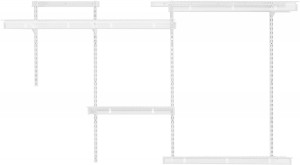 If you don't want to sort through the pieces and parts department at your local home improvement store, check out Rubbermaid's FastTrack Pantry Kit. The kit has everything you need to create an organized pantry from 12″ to 20″ deep. We like this unit because it's easy to install, the mesh is tight and it's very strong.
Not every home has a built-in pantry, so consider re-purposing a nearby coat closet, or a closet in a craft or guest room. Maybe even put a fancy screen door on it to enhance circulation, like this homeowner did: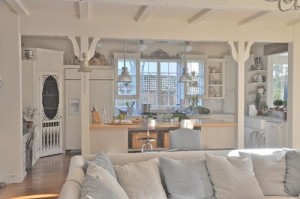 We also recommend keeping a hard copy list of food taped to your pantry door. We love spreadsheets as much as the next guy, but if the power's out, they're pretty useless! If you've got a good idea for how to store freeze-dried food, please share it on our Facebook page.