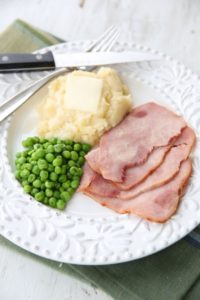 In our last post we wrote about building an emergency food plan, and all of the good reasons you should get started. The first thing we mentioned is you'll want to save some comfort food, because studies show that in a disaster you're going to want pie. (Okay, that's not a real study but it's true.)
But seriously, here's something else we've learned from all the years of talking to people who have endured disasters: In a disaster or emergency, you're probably going to need more protein and carbohydrates than you would normally eat. Here's why:
In a natural disaster, unless you're forced to leave, you're likely at home and possibly without power. You may have to deal with things like shoveling endless mountains of snow, cutting up downed trees, climbing on the roof to nail tarps, cleaning up debris, and boiling and carrying water for cleaning and drinking. It's also likely that when you're done at your house, you're going to go help your neighbors.
What we've learned from our customers and friends who have lived through disruptive events is that disasters involve a lot of manual labor. When you suddenly go from a desk job to cutting up trees with an ax all day, your body is going to need different nutrition to function and rebuild. For example, if you normally avoid most carbs to keep trim – you're going to want to eat them anyway if you're physically working hard every day. Same goes for protein. When you use muscles you don't normally use, they break down before they build back up. Your body must have plenty of protein to build muscle (and to heal and repair damage).
Of course meat is high in protein, but some people don't digest meat well, and others choose not to. Peas and beans are both high in protein, and when freeze dried are incredibly versatile. You can serve them as a side dish of course, but you can also load up soups and stews to increase the protein content. Because peas and beans have little a mild flavor, powdered peas and beans are an easy addition to almost any recipe to bulk up the nutritional content. (Pro tip: Powdered peas are easily snuck into things like chocolate pudding without picky eaters noticing.)
Peas and beans are easy to grow in your backyard, and inexpensive to buy in bulk. As you're building your emergency food plan, stash some extra peas and beans to ensure you'll have adequate protein to see you through a different sort of daily routine.