One of the great benefits of your Harvest Right Freeze Dryer is nutritional stability. While other food preservation methods sacrifice nutrition to varying degrees, they were the best methods available for many years. When Harvest Right hit the scene, it was almost unbelievable! Could you really freeze dry food that was shelf stable for up to 25 years, and MAINTAINED 97 TO 99 PERCENT VIABILITY? YES!!!
There are many segments of the population who use freeze dryers, and for several reasons. Hikers and campers love the ease of freeze-dried food on the trail. Families with food challenges and allergies love being able to preserve the foods that work for their families. In fact, some parents have found that the crunchy, crispy freeze-dried food that comes out of their Harvest Right is well tolerated by their texture-sensitive children. Gardeners and ranchers love their foods being stable for longer terms, so less food is lost to lack of rotation.
Another group of clients are fermenters. Studies have shown that food preserved by freeze drying maintain most of the qualities desired by the fermenters. Fermented food is living food, with many health benefits. Sourdough starter will work after rehydration. Krauts and other fermented vegetables still have many of their bacteria. Sprouted grains maintain their digestibility. Milk kefir may be freeze dried and use as starter for another batch of kefir.
One of our favorite things is baking with sprouted flour. Gluten intolerance is an issue for many, and sprouted flour changes the structure of the grains, allowing them to be more easily tolerated. It is not a painless process, so many resort to purchasing sprouted flour. However, the flour produced after freeze drying sprouted grain is extremely high quality and easy to work with. Try it!
To sprout your grain (I use wheat), first soak the grain in water to cover for about 24 hours. I use a jar with a piece of white cotton rubber banded over the mouth. After soaking, invert the jar in your sink and allow the water to drain. Tip the jar on its side and leave it. Twice a day, add water to the jar, swish a bit to wet all the grains, and then drain, leaving it on its side for ventilation. You can leave the jar sitting upright, but any leftover water will gather at the bottom. Tipping on its side allows that water to disperse over a larger area. It just helps the process. After a few days, you will see little tails appear on the grains. Continue to rinse and drain twice a day, and when all of the grains have tails, allow them to drain well, and dry out a bit.
Spread the grains on your Harvest Right trays, following the weight recommendations of your specific size dryer. Freeze dry your grains. While dehydrating grain gives a product that must be ground in a grain mill, the grains which are freeze-dried can be powdered in your hands, and are easily powdered in a food processor or mill. Store your sprouted flour in the refrigerator or freezer. One of my favorite recipes using sprouted flour is pecan sandies. The first time I made these, for a fermenting class, I was blown away. It was a whole new level of nuttiness and texture. I must admit that I cannot make these often, as I have zero self-control and will eat them all. Here is the recipe for those of you who want to try something new. If you have time, toast the nuts first for a few minutes in a 375-degree oven. I sub all the flour for sprouted flour. I use a small cookie scoop to portion out my cookies.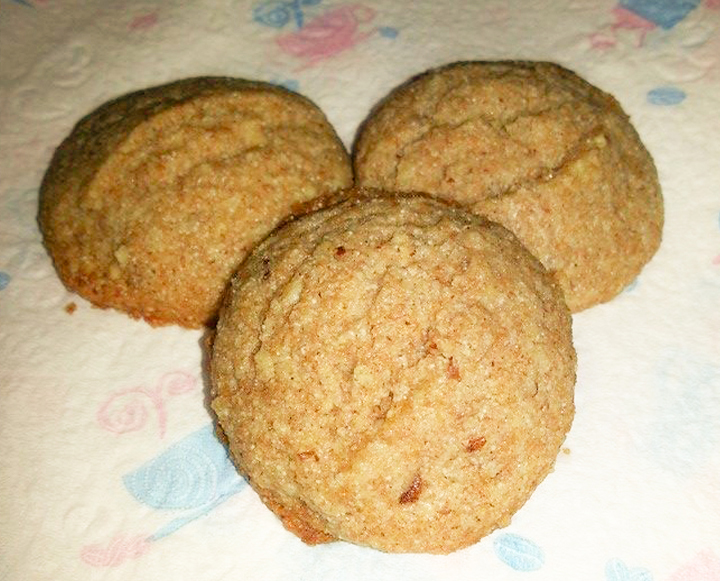 Pecan Sandies Recipe | Martha Stewart
Prep: 15 mins
Total: 30 mins
Yield: Makes 18
Ingredients:
1 cup (2 sticks) unsalted butter
1/3 cup granulated sugar
1 teaspoon pure vanilla extract
2/3 cup pecans, finely ground
1 2/3 cups all-purpose flour
Pinch of salt
1/4 cup confectioners' sugar
Directions:
Step 1 Heat oven to 350 degrees. In the bowl of an electric mixer fitted with the paddle attachment, cream butter and granulated sugar on medium-high speed until light and fluffy, 2 to 3 minutes. Beat in vanilla.
Step 2 Mix ground pecans with flour and salt, and add to butter mixture. Beat, beginning on low speed and increasing to medium, until combined, about 1 minute.
 Step 3 Lightly flour palms, if necessary, and roll dough into 3/4-inch balls. Place on an ungreased baking sheet 1 inch apart. Bake until just brown on edges, 20 to 25 minutes. Remove cookies from baking sheet while still warm; sift confectioners' sugar over tops.
Donna Hoaks and her husband retired, sold off their possessions, and relocated to Texas to partner with friends and co-homestead an 11-acre farm.