We've been sharing some great video clips from Stacy Lyn Harris, cookbook author, gardener, mother of seven, sustainability expert, and guest chef. This summer and fall, Stacy Lyn is doing cooking and gardening segments on RFDT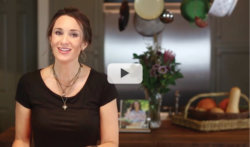 V's Rural Heritage show on cable TV, and we've got two words for you: Mac & cheese.
Born and raised in the south, Stacy Lyn loves making hearty macaroni and cheese for fun family dinners. To ensure she's got a good supply in the pantry for emergencies and fast meals, she uses her Harvest Right freeze dryer. In this episode Mid Tennessee Mule Train, Stacy explains how to freeze dry mac & cheese.
Below is one of Stacy's favorite Macaroni and Cheese recipes. It's a creamy and luscious recipe from Melissa at Served up With Love. Get Stacy's latest book, Stacy Lyn's Harvest Cookbook at http://amzn.to/2pUspwo. Or, visit her website at https://gameandgarden.com.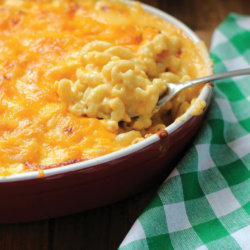 Melissa's Macaroni and Cheese
This recipe is for a 1 quart dish
1 cup elbow macaroni
1 tablespoon margarine or butter
I tablespoon all purpose flour
1 1/4 cups milk
2 cups sharp cheddar cheese
Cook macaroni according to package directions. Melt butter and stir in flour to make a roux.  Stir in milk, stir constantly until the mixture thickens. Continue stiring while melting the cheese. Butter or oil casserole dish and mix noodles with cheese sauce. Bake at 350 degrees for 20 minutes. Melissa makes this in a 9 x 13 inch casserole dish, which is roughly tripling this recipe.
Rehydrating Macaroni and Cheese:
Step 1: Preheat your oven to 350 degrees.
Step 2: Place your freeze-dried meal in an oven safe container. Gradually add water until the pasta is resting in water, but not submerged. (If necessary, you can always add more water later.)
Step 3: Cover with aluminum foil. This allows the food to steam and will result in better rehydration and your food will reconstitute much better.
Step 4: Place your covered pasta in the oven for approximately 15 minutes.
Step 5: Remove the foil and stir. If pasta is not completely reconstituted, replace the foil and put it back in the oven. (You may find that you need to add more water on this step.)
Step 6: Once you have ensured the pasta is completely reconstituted, remove the cover from your dish and enjoy.
You can also rehydrate pasta in a microwave safe container using similar principles as above, eliminating the aluminum foil. Simply add water, place in microwave, and heat and stir, cover the meal with a lid or saran wrap and allow the steam generated to rehydrate the pasta fully. Re-heat or add more water as necessary until the meal is fully rehydrated.
In an emergency situation where you may not have the use of a stove or microwave, simply add boiling water (can be done directly in a Mylar bag). Close the bag or cover the meal with a lid and allow the steam generated to rehydrate the pasta fully. Add more water, as necessary, until the meal is fully rehydrated.