Freeze drying fruits and vegetables can help you to preserve your own healthy, organic foods from your garden. However, if you own a Harvest Right freeze dryer you can also freeze dry some fun treats for those days when you're ready for a little splurge.
One of our favorite freeze dried treats that's also popular with many of our customers is freeze dried ice cream sandwiches.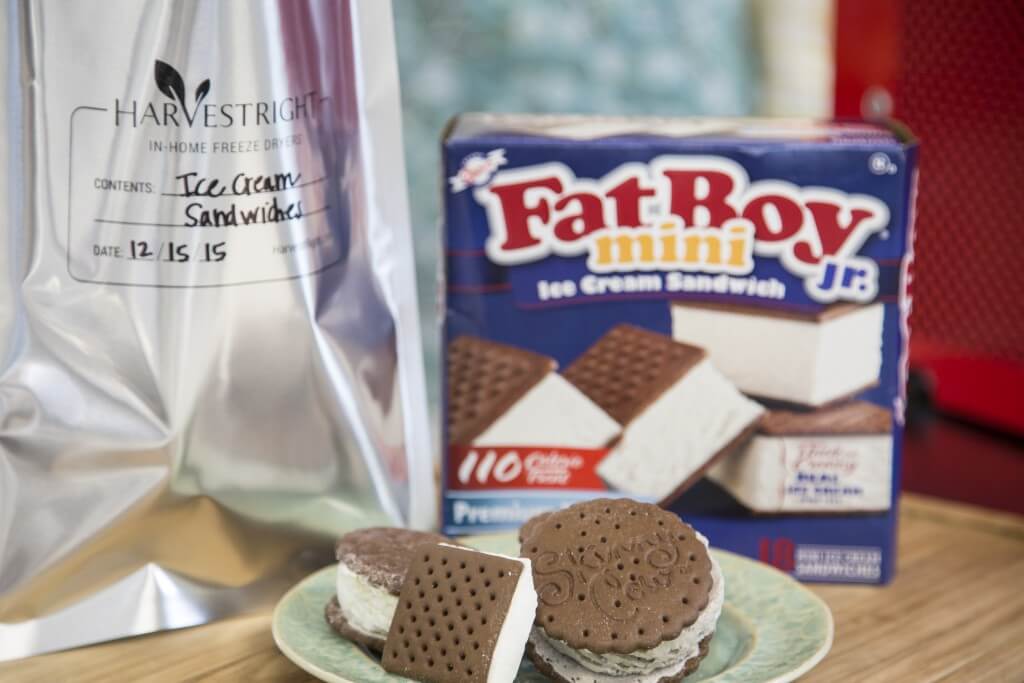 We love the Fat Boy brand, but we also loved trying the Skinny Cow brand because it tastes like full-fat ice cream without all the calories (so you can eat more of them, wink). Freeze dried ice cream sandwiches come out like a crunchy snack that you can store on your pantry shelf or pack up and take anywhere – camping, road trips, hiking, to school or work. For best results, we like to start our freeze dryer without anything in it to let it get nice and cold (generally a half an hour). We also customize our freeze time to 12 hours instead of the standard 9 hours. Then, simply snip one side of the plastic packaging and place ice cream sandwiches on freeze dryer trays and process normally. When the process is complete, store them in Mylar bags with an oxygen absorber and they'll be ready to eat in 25 years or simply put in an air tight jar on your counter and snack away over the next several weeks (if they will last that long).
We also experimented with freeze drying dessert toppers such as whipped cream and homemade marshmallows. Trust us, once you've had freeze dried whipped cream or marshmallows, you won't go back to the original version on your hot chocolate. Plus, these snacks are just as fun to eat all by themselves. To freeze dry whipped cream, spread in a layer or spoon dollops on the freeze dryer trays and process (again, it may help to start your freeze dryer up about a half an hour beforehand). For marshmallows, just dump on the trays and process. Store both in airtight containers.
Freeze dried marshmallows, especially flavored marshmallows, like these gingerbread ones  are a fun improvement on spongy marshmallows. They have that crunch like the marshmallows you had in cereal when you were little. Leave them in your hot chocolate and they start to slowly rehydrate, or eat them while they're crunchy and you'll love the nostalgic feeling.