Will the cost of a freeze dryer be going up or down soon? Freeze drying technology has, unfortunately, been very expensive. The initial freeze dryer we introduced just a few years ago was $5,000, but we keep doing our best to make it more affordable and now units start at $2195. With that said, our cost to produce a home freeze dryer has increased by 25% this past year due to tariffs and increased component costs. We are trying to keep prices low, but, eventually, we will most likely be forced to increase the cost of our freeze dryers. However, the combined cost to purchase and ship a freeze dryer was recently reduced, so it really is the best time to buy a one.
Why would I need a supply of freeze-dried food? Having a supply of emergency food allows you to be prepared for any situation. Most people will experience some type of serious disaster in their lifetime. Just watch the news to hear examples of such disasters including political upheaval, viruses, war, financial distress, hurricanes and other extreme weather. Having a supply of freeze-dried food gives you peace of mind in case any worst-case scenario affects you and your family.
What is a freeze dryer? A freeze dryer allows you to freeze dry food which is the very best method for preserving food – better than canning and dehydrating. People use their freeze dryers for a number of reasons. The most common uses of a freeze dryer are to preserve garden produce, create an emergency food supply, make healthy snacks, save leftovers, and prepare easy-to-make meals. 
How much food can be freeze dried in a year? It is fairly easy to process 4 batches of food a week. If you multiply the number of batches per week, times 50 weeks in a year (taking two weeks off), approximately 200 batches of food can be freeze dried in a year. Since, on average the freeze dryer can produce two #10 cans of food per batch, that is the equivalent of 400 cans of food per year.
What is home freeze-dried food worth? If one were to purchase good quality emergency preparedness food such as freeze-dried fruit, meats, vegetables and meals (not dehydrated noodles with some freeze-dried food in them), on average, it would cost at least $35 per can and, probably, much more. A freeze dryer is easily capable of producing four hundred #10 cans of food in a year. If you multiply that (400) times the value per can ($35) you get the value of a year's worth of home freeze dried food to be equal to or greater than $14,000. *For more cost comparison between home freeze-dried food and store-bought emergency preparedness food see the charts below.
How much effort and time does it take to freeze dry your own food? If a person can cut up food and press start, they can run a freeze dryer. The unit is automatic and beeps when it is done. Once the batch is finished, just pour the food into a Mylar bag, add an oxygen absorber, and seal the bag. Freeze-dried food is shelf-stable and can last up to 25 years.
Return on Investment: This table compares store-bought preparedness food to freeze drying your own at home with a Harvest Right Freeze Dryer.*The cost of purchasing emergency preparedness food versus freeze drying it at home is 70% to 80% greater.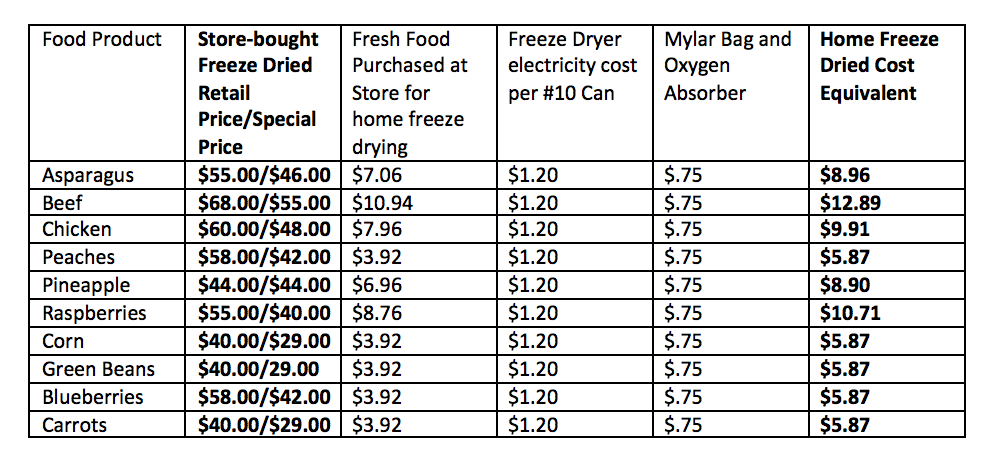 See the following graph to better view the comparison between store-bought and freeze-dried food at home with Harvest Right: