Freeze Drying vs Canning:
Too Good to Be True?
There are many ways to preserve food. However, the most recent innovation, Home Freeze Drying, may be the best of all. Essentially, the food stays fresh until it is used. The flavors are fresh, the nutrition is as good as fresh, and the food can last up to 25 years on the shelf without adding preservatives.
History of Canning
Everyone has heard of canning/bottling, but, have you ever wondered how it all began?

In 1795 the French military offered a cash prize of 12,000 francs for a new method to preserve food. In response to that challenge, Nicolas Appert, a confectioner and chef in Paris from 1784 to 1795, began experimenting with ways to preserve foodstuffs. He had success with soups, vegetables, juices, dairy products, jellies, jams, and syrups. Appert placed the food in glass jars, sealed them with a cork and sealing wax, and placed them in boiling water.

Fifteen years later, in 1810, Appert was awarded the Navy's prize by Count Montelivert, a French minister of the interior. Because of that, canning and bottling, one of the world's largest industries, began. At the time, it almost seemed "Too Good to be True!"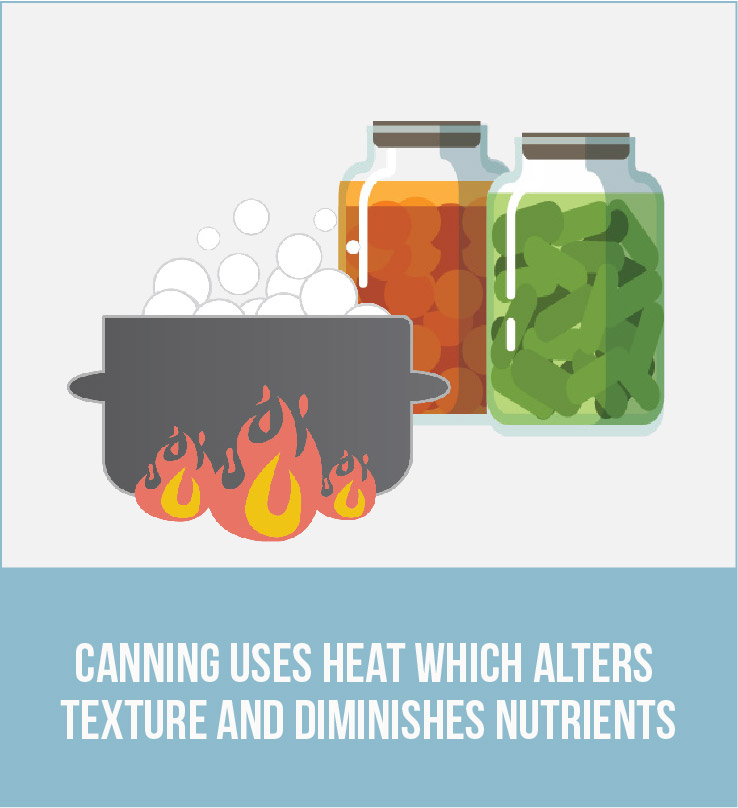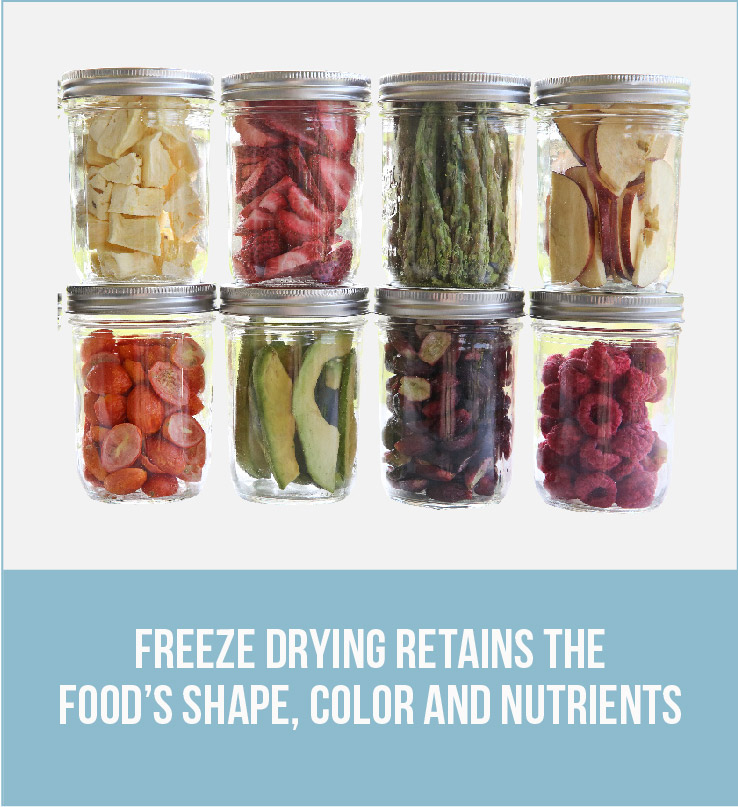 Invention of Freeze Drying
After canning, the next great invention for preserving food didn't happen for another 270 years. Then, during World War II, modern freeze drying was developed. Blood serum being sent from the U.S. to Europe for medical treatment of the wounded required refrigeration, but, because of the lack of simultaneous refrigeration and transportation, many serum supplies were spoiling before reaching their intended recipients. The freeze drying process was developed as a commercial technique that enabled serum to be rendered chemically stable and viable without having to be refrigerated. Shortly thereafter, the freeze dry process was applied to penicillin. Today, most pharmaceuticals are freeze dried to maintain their freshness and potency.
Freeze drying food
It wasn't until the 1970's that freeze drying was commercially used to preserve crops of food. Because heat, commonly used in crop and food processing (canning and dehydrating), invariably alters the structure and chemistry of the product, the main objective of freeze drying is to avoid heat and thus preserve the structural and chemical composition with little or no alteration. Therefore, freeze-dried crops and foods are closest to the natural composition with respect to structure and chemistry. Foods that are freeze dried are simply placed in a form of stasis until water is added back to the food. Freeze drying food simply removes the water without damaging the food.

The outstanding advantage of freeze-dried food is its long shelf life. When properly stored, many freeze-dried foods can be eaten 15 to 25 years after they were prepared. Even after that length of time the food's flavor and nutritional value is almost as good as when it was fresh. It seems almost "Too Good to be True!"

Freeze drying came to wide public attention when it was used to create freeze-dried ice cream, an example of astronaut food. The freeze drying process is amazing. It allows one to preserve eggs, dairy products (such as cottage cheese, sour cream, milk) and all forms of meats, vegetables and fruits.

Today, most of us are aware that it is possible to purchase freeze-dried food for home storage and for camping, but are you aware that it is now possible to affordably freeze dry your own foods at home?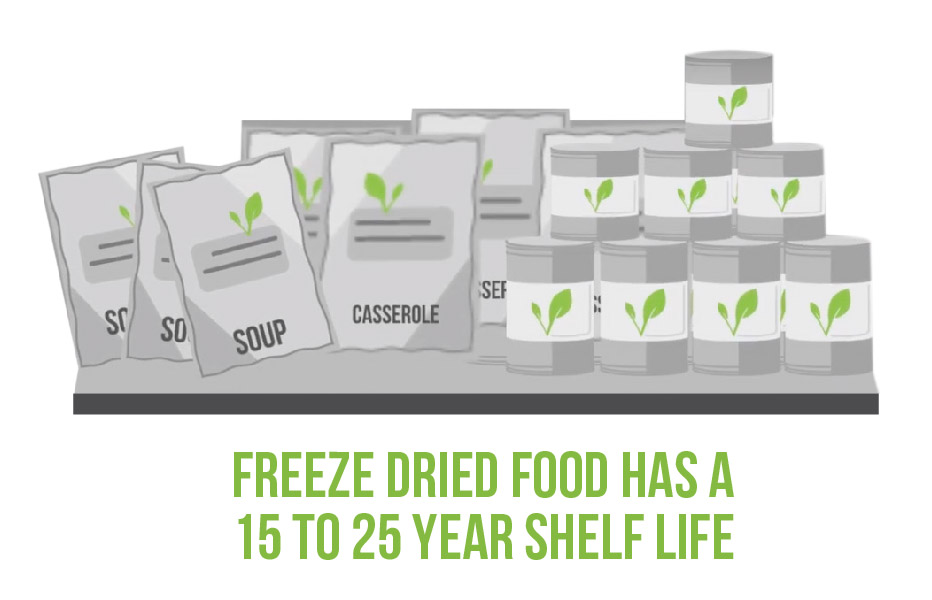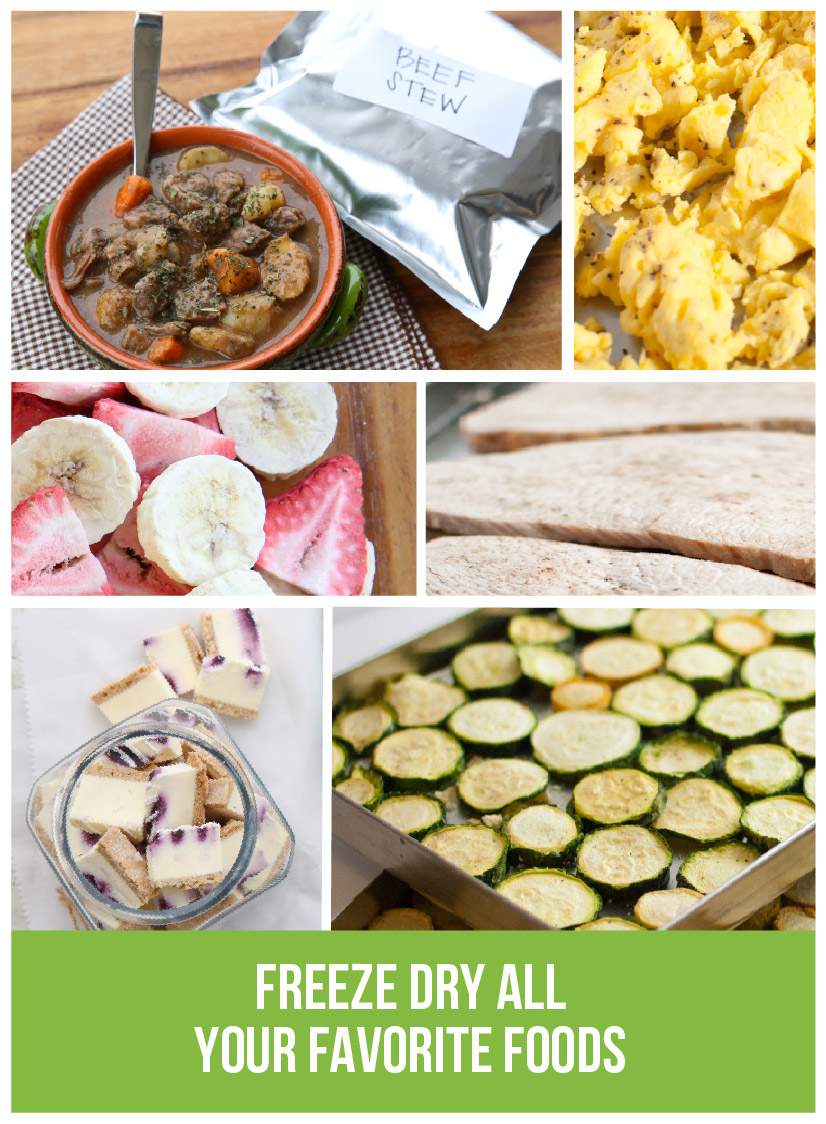 Why you should choose freeze drying over canning
Anyone who has canned at home understands that it takes a lot of work. It's hot, it's messy, and requires attention to detail. Home freeze drying is much easier. Simply place the fresh food on stainless steel trays, slide them into the freeze dryer, and presses start. The rest of the process is automatic. Shortly thereafter, the freeze dryer, having sensed that the food is dry, lets you know that you can remove the food – the process is complete. Again, this seems almost "Too Good to be True!"
In order to sustain life, we need three primary things: Heat, Oxygen, and Water. Yet, and it seems like an oxymoron, these same three things also destroy our food.

When a traditional canning method is used to preserve, the food is heated in order to hinder the growth of microorganisms such as molds, yeast, and bacteria. These organisms may be present in the soil, on the food, in the air, on equipment or on work surfaces. Yeast, molds, and bacteria are destroyed during canning to prevent the food from spoiling. The correct amount of time to process varies with the kind of food. Sufficient heat for a specified length of time kills microorganisms and insures a safe product. The problem with heat is that it also changes the look of the food, the taste of the food, and the nutritional value of the food (nearly 60% of the nutritional value of fresh food is lost when canned). As everyone knows, canned meat and fish are not even close to being as good as fresh. And, whoever heard of canned sour cream or canned fresh eggs or even canned ice cream. Yet these, and a thousand other things, can be freeze dried.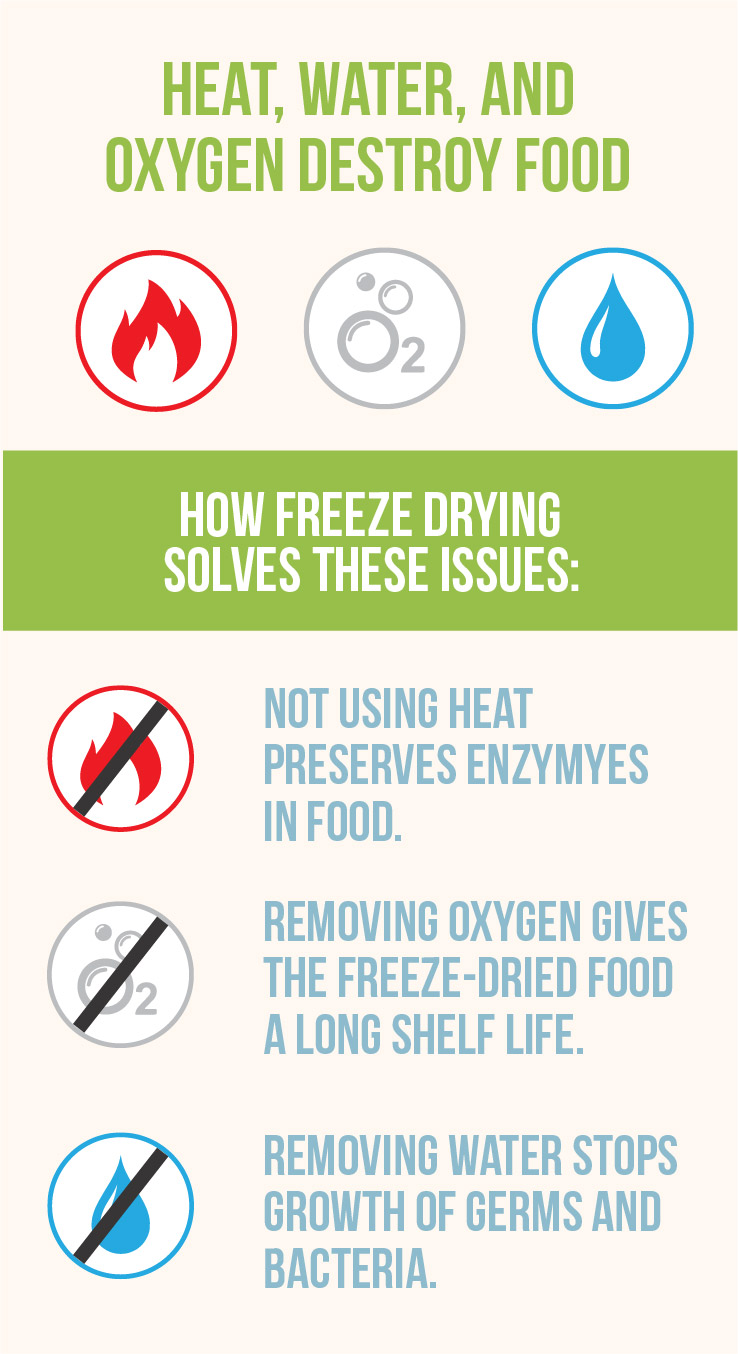 When food is canned, it typically changes the texture from crisp to mushy. The taste changes considerably; and the appearance (color and shape) even changes. By the time a lot of sugar or salt has been added during the canning process (i.e., peaches, pork and beans), it generally tastes decent. The problem is, the sugar and alt might be something to avoid in most diets.

On the other hand, freeze dried apples, bananas, roast beef, avocados, ice cream, and shredded cheese (along with everything else you can think of) continue to look and taste just the same as they did prior to being freeze dried.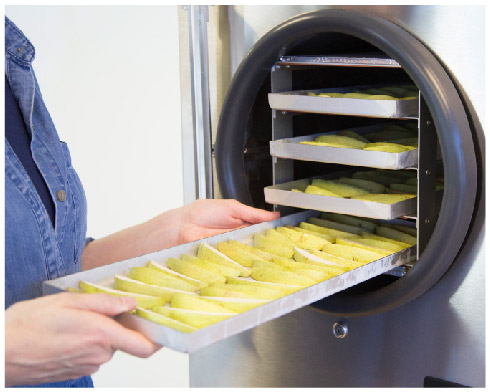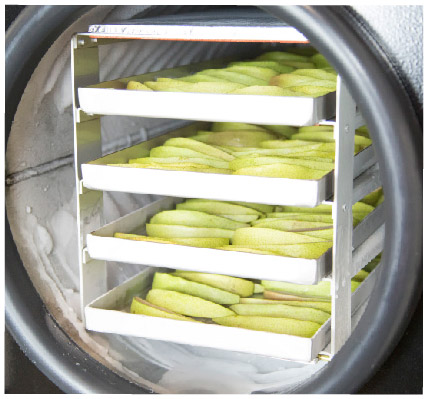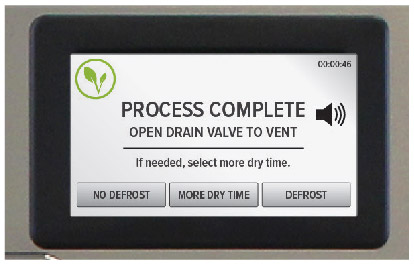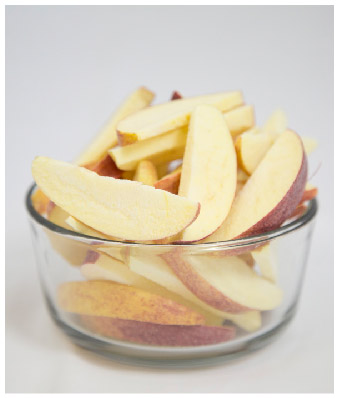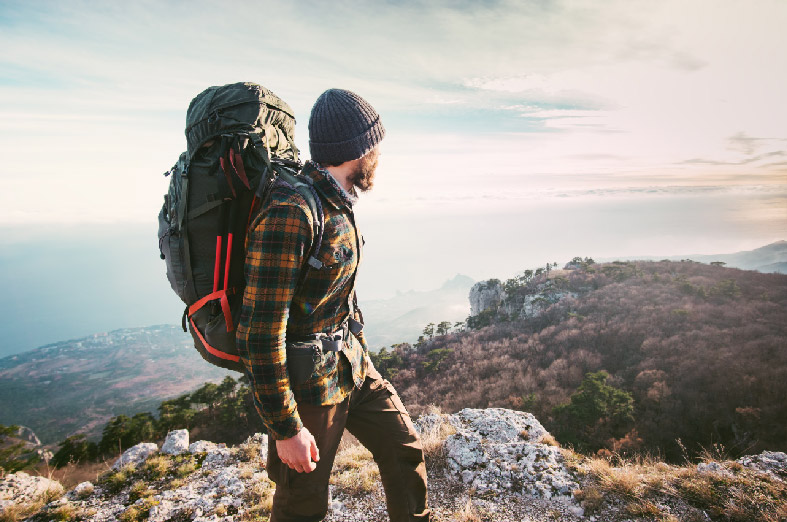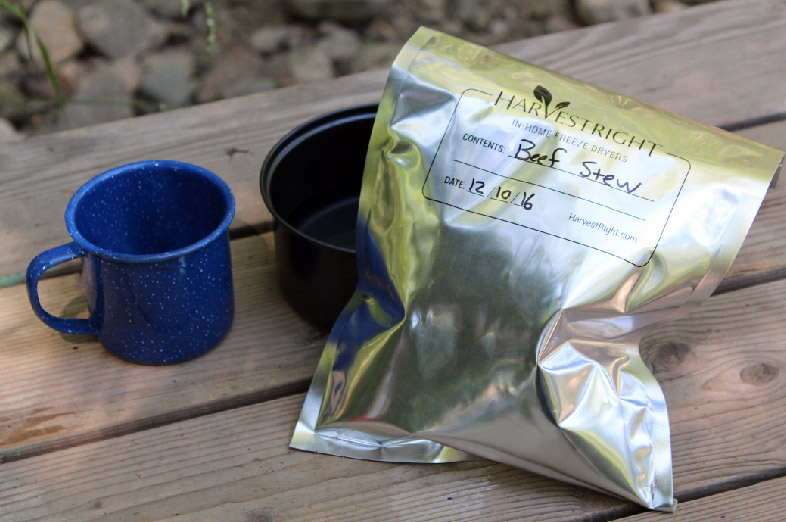 Portability
One might think it is strange to consider the ease of moving preserved food. However, many people go camping or backpacking. And most of us, on occasion, bring food to work.

Jars of bottled food are a problem when it comes to moving them anywhere. They are heavy and fragile. As you know, lugging boxes of canned goods to a storage room is a chore. Bringing a jar of peaches to work would be unusual. However, bringing a bag of freeze-dried peaches to work is easy. They taste better than potato chips and are much healthier.

Freeze dried food is light because all the water has been removed. A bag of apples that weighed 10 pounds when fresh, weighs about 1 pound after being freeze dried. Lifting and transporting freeze-dried food is easy because it is extremely light, which makes it a favorite for many when camping and backpacking.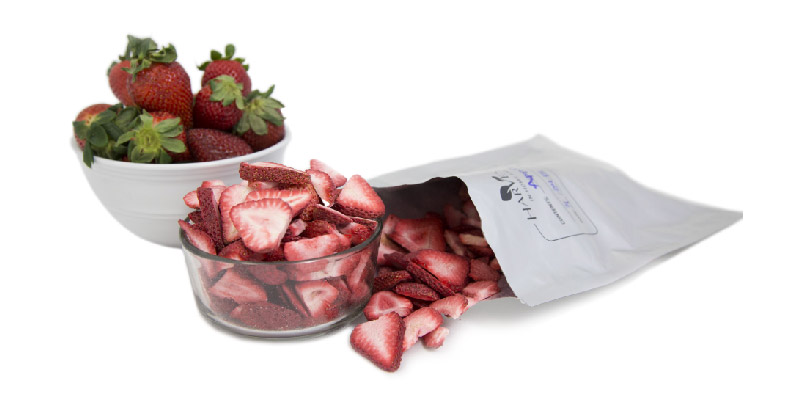 Flexibility
No, the food does not easily bend. What we mean by flexibility is that you can freeze dry anything that has water in it: Meat, fruit, vegetables, dairy, eggs, and complete meals. The adventures of freeze drying are endless.
---
which freeze dryer is
right

for you?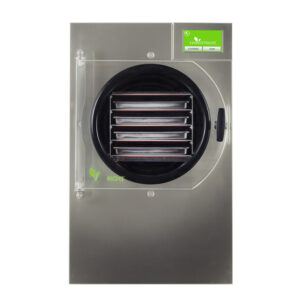 Small Pro Freeze Dryer
starting at $$2,695
Fresh Food Per Batch
6-10 lbs.
Fresh Food Per Year
Up to 1800 lbs.
Tray Space
434 sq. inches
---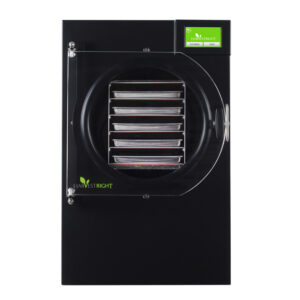 Medium Pro Freeze Dryer
starting at $$3,195
Fresh Food Per Batch
10-15 lbs.
Fresh Food Per Year
Up to 3000 lbs.
Tray Space
675 sq. inches
---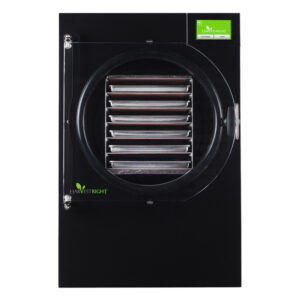 Large Pro Freeze Dryer
starting at $$3,895
Fresh Food Per Batch
18-27 lbs.
Fresh Food Per Year
Up to 5000 lbs.
Tray Space
1107 sq. inches
---
---
freeze drying
fits every lifestyle